Almost every worker has to use not only their PC but also their smart phone. Nothing delays more that never ending phone calls and SMS sending. Furthermore, it is bad for our eyes if we switch the quality of display and size too much. All of those challenges are answered by Dell Mobile Connect through secure and fast connection between your computer and mobile phone. The application is also free to download!
Application not only allows its users to pick up their phone calls and send SMS via your computer, but also the control of your apps and showing notifications on your monitor. This allows you to focus on one display instead of two devices. You can very easily control which apps can use this connection. Biggest advantage is the ability of making calls with your headset. You will never again be in that awkward situation when you need both hands for work but one is occupied by holding your phone. Answering massages via your keyboard is also much more effective.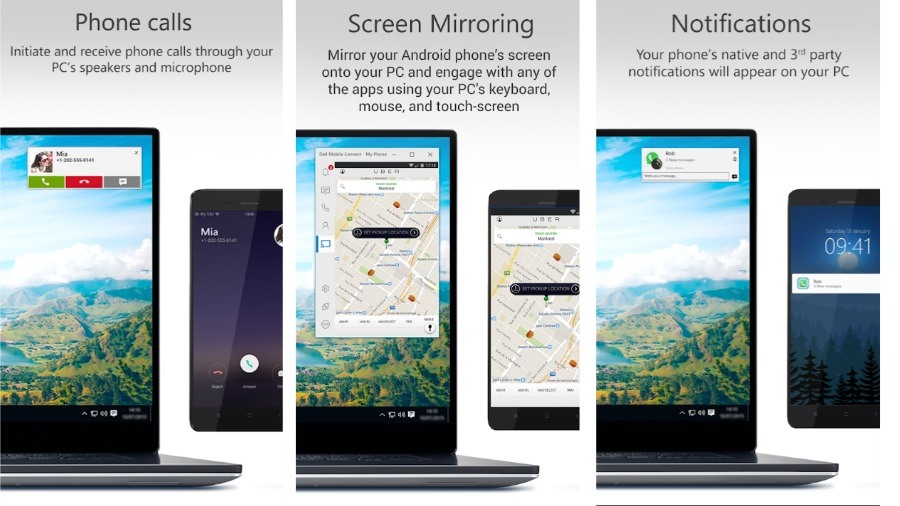 The application is best for notebook with touch enabled displays. Thanks too futuristic screen function you will get the possibility of not only using mouse and keyboard but also your fingers to control your essential applications.
The biggest advantage is how fast the application can be. This is best for transferring files between your devices without having to use any third-party cloud solution. Your data are always secure and are in no means present on any other platform.
Application is compatible on XPS, Inspiron, Vostro notebooks and on Alienware pcs, which support Bluetooth and were bought after 2018. Other client devices can also support this technology but the function will not be optimal. Dell Mobile Connect is also compatible on devices with iOS 10 and android 6 and higher. The application is in continuous development.
Dell Mobile Connect is available to download from Microsoft store, Google Play and Apple Store. If your devices are compatible the installation process will take only few minutes.
Please contact us of you require more information.