Dell UltraSharp 25 PremierColor Monitor: UP2516D
The perfect example of changes to the UltraSharp family is UP2516D. On the first look we can see smaller frames of the display, which allows bigger display without increasing the overall size of the monitor. Second addition is highly adjustable stand, allowing wide possibilities to adjust the position of the monitor.
The biggest advantage is the usage of Dell PremierColour Technology, which allows amazing viewability of colours in one of the kind qualities with endless possibilities of user's colour adjustment.
Wide scale of colours is allowed by the support of 100% Adobe RGB and sRGB technologies and also by two new colour environments 100% REC 709 and 98% DCI-P3, which are ideal for professionals in the field of video editing, post production and animation. Accurate, precise and real displaying of colours is allowed by the monitor setting to deltaE bellow 2 – that means that the difference between the colours which are displayed on them monitor and those in the real world cannot be spotted by human eye. Perfect is the displaying of details even in dark environment thanks to the depth of 1.07 billion colours, which is 64 time more than with normal monitors.
Monitors of 25 series achieve the best quality of display available on the market. Another benefit of smaller frame is while using more monitors at once – they look like being connected to each other. Thanks to unmatched resolution of 2560 x 1440 on 25 inches wide screen you can experience the ultimate viewing experience whole working with your monitor. Another advantage is viewing angles of 178/178 degrees.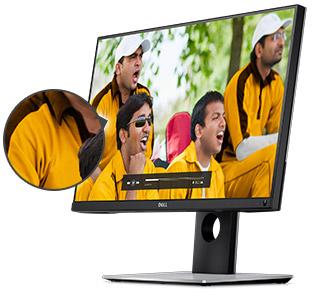 Monitors support the connection of up to two client stations at once and their control by only one mouse and keyboard thanks to the support of KVM technology. Surety is the support of HDMI, DisplayPort, four USV 3.0 and two USB 3.0 upstream ports (KVM).
Monitors work the best with additional peripherals from Dell. For example, X-Rite i1Display pro Colourimeter allows the editing of colourful spectrum to the maximum, Dell Soundbar AC511 provides the best quality of sound and if you are afraid that somebody might stole your new monitor Dell Premium Lock – LP500 will defend you against theoretical theft. Broad docking solutions will increase overall comfort and effectiveness of your work space by allowing the simple connection to all your cables through one small attachable box.
New monitors are compatible with the majority of dells work station, but it is better to confirm the compatibility with us so we can help you achieve the ultimate best experience. If you need more information please contact us.